Editions du Borrego - Eric Jamet, éditeur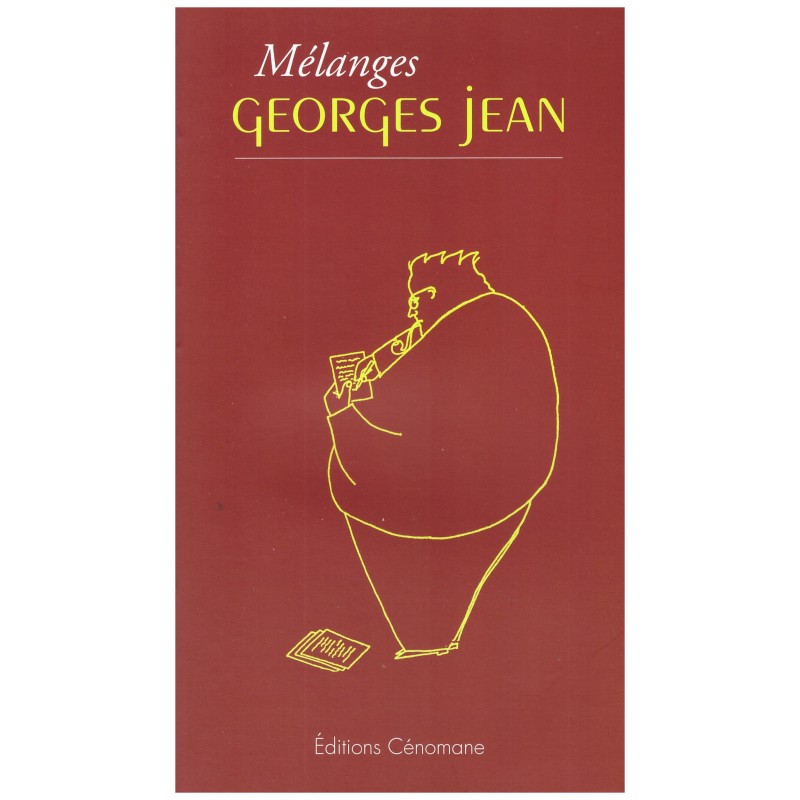  
Mélanges
Georges Jean
Un ouvrage de 160 pages. 120 x 210. Broché
Prix 16,50 € (franco de port)

Vos paiements sont sécurisés que ce soit par Paypal ou par cartes bancaires.

Vos commandes sont expédiées le jour même, si elles sont passées avant 14 h. Les frais de port sont gratuits.

Votre colis a été endommagé ? Vous pouvez nous le retourner gratuitement dans les 3 jours francs qui suivent après la date de réception.
Le colloque organisé en mai 2008 par la médiathèque Louis Aragon du Mans et le service « Développement et actions culturelles de la ville du Mans », avec le soutien de l'association « 24 heures du livre », a exploré la richesse de l'oeuvre de Georges Jean et l'actualité de son action.
Ces Mélanges réunissent les contributions des intervenants du colloque, qui se sont attachés à rendre compte de toutes les facettes de son travail.
Le livre intégre un texte inédit de Georges Jean, fragment de circonstance de ses Mémoires imaginaires, écrites tout au long de sa vie et mêlant réalité biographique, poésie et fiction littéraire.
Né à Besançon en 1920, Georges Jean, après des études de lettres et de philosophie, a parcouru les divers degrés de l'institution scolaire, de l'école primaire de campagne à l'université du Maine, où il a enseigné la linguistique et la sémiologie, et à l'Ecole normale du Mans.
Poète attaché à la nature, formateur de générations de maîtres, il fût aussi et passionnément un « passeur de culture » militant, comme en témoigne son engagement dans le mouvement d'éducation permanente Peuple et Culture.
Il est l'auteur d'une œuvre multiple et abondante : poésie, essais théoriques sur les genres littéraires, l'écriture et la pédagogie, ouvrages à destination des enfants.
Parmi-eux, citons les trois essais – sur la poésie, le roman, le théâtre – publiés au Seuil et les deux ouvrages sur l'histoire des signes et de l'écriture publiés aux éditions Gallimard dans la collection « Découverte » et traduits dans de nombreuses langues.
Reviews
No customer reviews for the moment.
16 other products in the same category:
Sous la direction de Serge Bertin
Un ouvrage de 208 pages. Format : 12,5 x 21,5. Broché. Nombreuses illustrations.
ISBN : 978-2-916329-17-8
Françoise Chaserant, Christoph Martin Vogtherr, Günter Berger,
Isabelle et Rémy Landy, Florence Raymond, Didier Travier. 
Catalogue de l'exposition, Le Mans, musée de Tessé, 5 novembre 2004 -30 janvier 2005.
Un album de 136 pages. Format : 215 x 275. Broché. Nombreuses illustrations.
Prix 20,00 € (franco de port)
Jean-Claude Leroyer
La France en danger
Gilets Jaunes, violences policières et Macronie
Un ouvrage de 80 pages. 110 x 180 Broché.
Prix 10,00 € (franco de port). Vient de paraître.
Trésor du parler cénoman
Serge Bertin, Dominique Beucher, Jean-Pierre Leprince
Un ouvrage de 384 pages. Format : 17,5 x 24,5. Relié. Dessins de Paul Cordonnier-Détrie
Préface de Louis Lebourdais.
Michel Bollée
Les Bollée dans la course 1895-1900
Format : 210 x 297. 142 pages. Photographies inédites
ISBN : 978-2-904724-72-5
Prix 30,00 €
Michel Bonté & Jean-Luc Ribémon
Un album de 112 pages. Format : 220 x 280. Broché. Abondemment illustré.
Prix 29,50 € (franco de port)
Jean-Claude Leroyer
Chroniques d'un vieux Gilet Jaune en Sarthe et à Paris
« Police partout, Justice nulle part »
Un ouvrage de 116 pages. 110 x 180 Broché.
Prix 10,00 € (franco de port)
Anne Teissier
Suivez le facteur...
Un ouvrage de 96 pages. 160 x 240. Broché cousu.
Epuisé
Lucien CHANROUX
Histoire des Loudonneaux
(Hameau de Saint-Mars-La-Brière
Format : 150 x 210. 72 pages. Photographies inédites
ISBN : 978-2-904724-73-2
Prix 12,00 €
Edith Jacqueneaux
Un ouvrage de 96 pages. Format : 10 x 17,5. Broché
ISBN : 2-905596-44-9
Paulette Houdyer
Préface de Martine Fleury, psychiatre, pyschanalyste
Un ouvrage de 256 pages. Format : 135 x 210. Broché. Illustrations.
Prix 16,00 € (franco de port)
Format 147 x 210. 178 pages. Illustrations.
Histoire de Renault Le Mans par Raymond Hubert.
Avant-propos de Sonia Hertz-Blondeau.
A la recherche de Pain-Perdu

Serge Bertin - Harris Richard
Un ouvrage au format 15 x 19. 64 pages. Nombreuses illustrations.
ISBN : 978-2-904724-43-5
Prix public : 10,00 €
Photographies : Georges Quaglia
Texte : Jean-Pierre H. Tétard
Un album de 88 pages. Format : 22,5 x 29,5. Broché.
Nombreuses photographies.
ISBN : 2-905596-97-X